D-Link Nuclias Cloud-Managed AC1900 Wave 2 Access Point

A powerful Access Point ready to take the burden of big network demands in a small to medium-sized business setting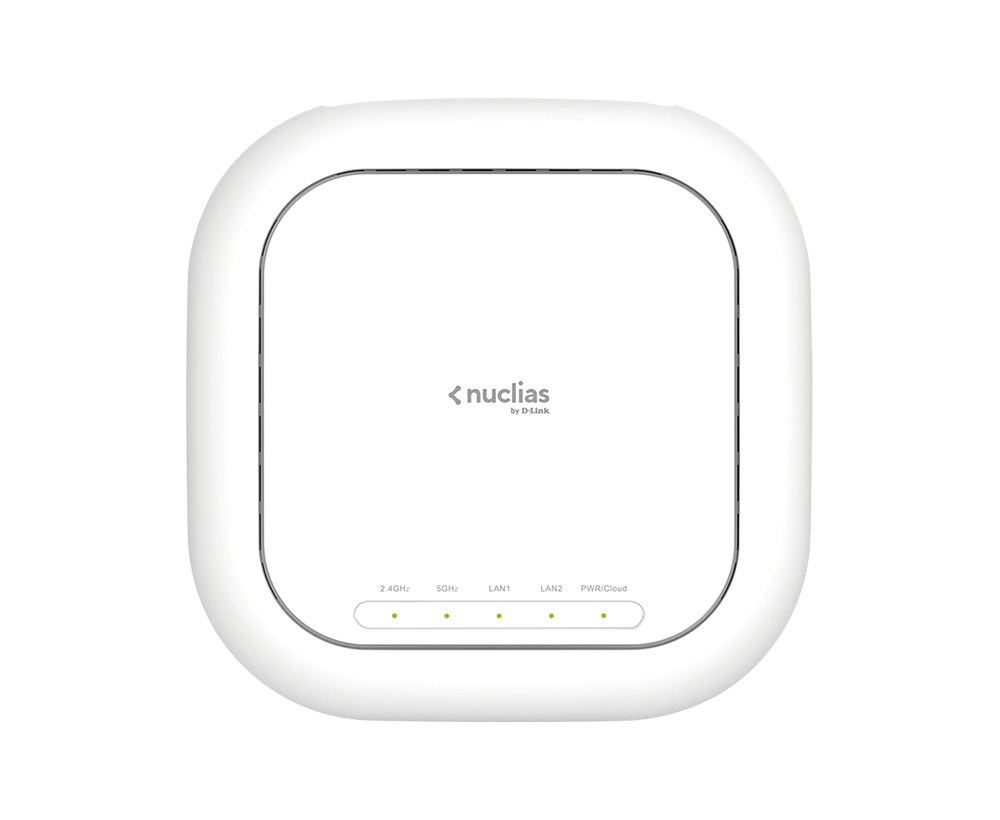 D-Link Products
D-Link Nuclias Business Cloud Access Points
Nuclias Business Cloud AC1900 Wave2 Access Point
#DBA-2520P
List Price:
$407.99
Our Price: $387.59
Click here to jump to more pricing!
Overview:
The DBA Series Nuclias Cloud-Managed Wave 2 Access Points are deployed as a pre-managed, zero-configuration access point controlled through the D-Link Nuclias Cloud1. These are the best-in-class indoor access points designed specifically for enterprise environments. With next-generation 802.11ac Wave 2 dual-band concurrent 2.4 GHz and 5 GHz radios, the DBA Series offers high combined data rates to wireless clients allowing for lightning-fast access to bandwidth-intensive applications such as data, voice, and video streaming.
Cloud Management
Cloud-based network management offers the flexibility and convenience you need. Admins can carry out various tasks using D-Link's centralized management platform via browser or app, anywhere with an Internet connection. Unlimited device and site scalability, along with multisite management, allow you to manage a worldwide network from a centralized location. Zero Touch Deployment does away with repetitive device configuration by remotely pushing settings to devices. Furthermore, devices can be managed in batches or individually for more precise control. These features, plus more, all consolidated on a unified platform make management as simple and as hassle-free as it should be.
In-Depth Analytics & Automated Reporting
Nuclias Cloud delivers a deeper understanding of your network and its users through automated traffic analytics and status reports. Traffic can be viewed on a network-wide scale, or down to individual devices. Insights derived from these reports can be used to further drive business value.
Peace-of-Mind
Nuclias Cloud carries a 99.9% reliability SLA (Service Level Agreement) that ensures a constant access to cloud services. Device operation will not be interrupted in the event that cloud services are unavailable. End to end encryption, role & privilege-based access control, amongst a host of other security features work together to preserve the integrity of your network. Automation capabilities provide an additional level of convenience, including control of network parameters, alerting, reporting and firmware updates.
Ease of Use
Nuclias Cloud has an intuitive interface that is designed to maximize your productivity. Admins can access easy to grasp, at-aglance details of their network environment. Batch configuration and multitenancy support streamlines administrators' work. Meanwhile, social-login, airtime fairness and bandwidth priority make life easier for users.
Features:
Centralized cloud-based management, with intuitive web and app-based interface
Superior throughput with dual-band transfer speeds up to 600 Mbps in the 2.4 GHz band and 1300 Mbps in the 5 GHz band
Slice through congestion with better handling of multiple connections thanks to IEEE 802.11ac Wave 2 wireless
2 x 2 MU-MIMO Antenna with two spatial streams handles simultaneous connections more efficiently
Supports WPA3™ - the latest WiFi security for more protection
Band Steering pushes 5 GHz capable devices onto the faster band
Beamforming tracks devices, giving better connectivity while on the move
Create a secure guest network with social login amongst other authentication options
Supports Power over Ethernet for simpler installation with less cable clutter
With Zero Touch Deployment, deployment is flexible and fast: get online in no time
Equipped with an integrated DHCP Server to provide stand-alone capabilities
Solution Features:
Cloud Management
Zero-Touch Deployment
Intuitive Interface
Unlimited Scalability
Real Time Traffic Reporting & Analytics
Device Geolocation with Google Maps
Visualized Floor Maps
Automated Monitoring & Alerts
Multi-Tenant & Role-Based Administration
Band Steering
Bandwidth Optimization
Searchable Event Log and Change Log
Auto Channel Management
Authentication via Customizable Captive Portal, 802.1x and RADIUS Server
Social Login for Guest Wi-Fi Access
End-to-End Encryption
Over-the-Air Firmware Upgrades
Benefits:
Best-in-Class Built for Enterprise AP
IEEE 802.11ac Wave 2 wireless
Supports IEEE 802.3at Power over Ethernet (PoE)
IEEE 802.3az Energy-Efficient Ethernet (EEE)
Integrated DHCP server
Supports Link Aggregation
Allows for a high number concurrent users
Tri-Band Wi-Fi (DBA-2720P)
1 x 2.4 GHz and 2 x 5 GHz wireless bands to accommodate for an increasing number of devices
Enjoy seamless bandwidth intensive applications such as HD video streaming, VoIP, and file sharing on 2 x 5 GHz
Utilizes intelligent band steering technology for efficient load balancing and workload distribution
Enterprise Security
Personal and Enterprise versions of WPA/ WPA2
(802.11i)/ WPA3
SSID/Guest/Station Isolation
IP/MAC address filtering
Captive Portal (Facebook, Google, Line, Weibo, E-mail authentication)
Supports RADIUS client and Cipher negotiation
Wave 2 MU-MIMO
2 x MU-MIMO Antenna with two spatial streams
Perfect for 'Multi-User', 'Multi-Input', 'Multi-Output' environments
Significantly reduces network congestion
Utilizes beamforming to direct signal at intended wireless device
Nuclias by D-Link:
Cloud Networking, Refreshed
The DBA-2520P Access Point (AP) is part of the Nuclias Cloud solution – D-Link's complete Cloud-Managed Networking solution for Small-to-Medium Businesses (SMBs), designed to make the ownership and administration of IT infrastructure as simple and hassle-free as possible.
Nuclias by D-Link is a complete cloud-managed networking solution for small to medium-sized organisations with one or more sites.
How it works
Wi-Fi coverage and network capacity are provided by high-performance Access Points and Managed Switches deployed on site, while configuration and ongoing management can be carried out remotely through a web browser or tablet.
Zero-touch provisioning and centralised cloud-based control make the network simpler to install and easier to manage. With Nuclias, network configurations and software updates are pushed to remote devices through the cloud, without the need to have specialised equipment or personnel onsite. SSL encrypted, out-of-band network monitoring and management ensures secure connectivity whilst minimising bandwidth requirement.
Main Features
Zero-touch provisioning
Role-based administration
Auditable change logs
Authentication via customisable captive portal, 802.1x and RADIUS server
Social login for Wi-Fi access supported
Advanced traffic report and data analysis
Intuitive web-based interface with multilingual support
Automatic monitoring and alerts
Over-the-web firmware upgrades
Searchable network-wide event log
Intuitive VLAN Configuration
Cloud based RF Optimisation
Specifications:
Model
DBA-2520P
DBA-2720P
Interfaces
2 x 10/100/1000 Mbps Ethernet port
1 x RJ45 Console port
IEEE 802.11a/b/g/n/ac Wave 2 wireless
Standards
IEEE 802.11a/b/n/g/ac Wave 2
IEEE 802.3az Energy-Efficient Ethernet (EEE)
IEEE 802.3at Power over Ethernet (PoE)
IEEE 802.3i/u/ab
IEEE 802.3x Flow Control
Antenna
Internal omnidirectional antennas:
2.4 GHz: 3 dBi
5 GHz: 4 dBi
Internal omnidirectional antennas:
2.4 GHz: 3 dBi
5 GHz(1): 4 dBi
5 GHz(2): 4 dBi
Maximum Output Power
2.4 GHz: 25 dBm
5 GHz: 25 dBm
2.4 GHz: 26 dBm
5 GHz (1): 26 dBm
5 GHz (2): 26 dBm
Maximum Output Power
2.4 GHz: Up to 600 Mbps
5 GHz: Up to 1299 Mbps
2.4 GHz: Up to 400 Mbps
5 GHz (1): Up to 867 Mbps
5 GHz (2): Up to 867 Mbps
Functionality
Security Features
192-bit enterprise encryption
128-bit personal/enterprise encryption
MAC address filtering
SSID isolation
Guest isolation
Captive portal
Station isolation
Maximum SSIDs
Supports up to 16 SSIDs per device:
Up to 8 SSIDs per wireless band
Supports up to 24 SSIDs per device:
Up to 8 SSIDs per wireless band
Physical
Dimensions
224.5 x 223.85 x 50 mm (8.83 x 8.81 x 1.97 in)
224.5 x 223.85 x 50 mm (8.83 x 8.81 x 1.97 in)
Weight
Without mount: 811 g (1.79 lbs)
Without mount: 729 g (1.60 lbs
Power Input
IEEE 802.3at Power over Ethernet (PoE) on LAN 1
Power adapter: 12 V DC, 2.5 A
IEEE 802.3at Power over Ethernet (PoE) on LAN 1
Power adapter: 12 V DC, 2.5 A
Power Consumption
PoE: 19.68 W
Power adapter: 16.92 W
PoE: 20.16 W
Power adapter: 18.96 W
Pricing Notes:
Pricing and product availability subject to change without notice.
D-Link Products
D-Link Nuclias Business Cloud Access Points
Nuclias Business Cloud AC1900 Wave2 Access Point
#DBA-2520P
List Price:
$407.99
Our Price: $387.59