D-Link 28-Port Nuclias Cloud-Managed PoE Switch (370W PoE Budget)

Powerful & flexible Cloud-managed networking solution for Small-to-Medium-Sized Businesses (SMBs/SMEs)
D-Link Products
D-Link Nuclias Cloud-Managed Switches
D-Link 28-Port Nuclias Cloud-Managed PoE Switch - PoE Budget 370W
#DBS-2000-28MP
List Price:
$814.99
Our Price: $774.24
Click here to jump to more pricing!
Overview:
D-Link Nuclias is an innovative cloud networking solution that allows you to centrally manage your entire network from anywhere, any time through its intuitive portal interface or mobile app. Featuring a full range of cloud-managed access points and switches supported by zerotouch deployment, Nuclias enables small businesses and enterprises to quickly deploy and build a powerful and versatile global wired and wireless network.
The DBS-2000 Series Nuclias Cloud-Managed Switches are deployed as pre-managed, zeroconfiguration switches controlled through the D-Link Nuclias cloud1. They are best-in-class switches designed specifically for enterprise environments.
Centralized Management With D-Link Nuclias
Designed to be managed through the D-Link Nuclias cloud, DBS-2000 Series switches are easily set up with the help of the intuitive D-Link Nuclias browser-based or mobile app interface. Centralized cloud management allows for zero-touch provisioning, enabling businesses to quickly configure, deploy, maintain, and expand their network remotely. Configuration settings can be set up, managed, and deployed through the cloud anytime, anywhere through any web browser or the dedicated mobile app, meaning devices can be deployed at a remote location without any need for trained on-site staff. Save time by configuring switches of the same model series in bulk. Similarly, if the same set of ports of multiple switches uses the same configuration profile, this port configuration can easily be deployed and updated in bulk.
Hassle-free Administration and Versatile Deployment
Using D-Link Nuclias, businesses can now more effectively organize their entire wireless network, manage multiple switches simultaneously, and monitor live network statistics. With the user-friendly single pane of glass management console, administrators have access to an intuitive way of organizing the network into multiple sites, which simplifies management across multiple areas. With no limitation on the number of devices, businesses can easily cater to the demands of a growing network by simply adding more devices to the network. Overthe-air firmware updates can be automatically pushed to devices through the cloud.
Automated Monitoring and Alerts
Through the intuitive Nuclias dashboard, administrators can remotely view real-time information about the network and get an instant overview of key network statistics such as performance, connectivity, and network usage. Through the dashboard quickly view both switch and access point status information such as link status and number of connected devices. Easily view your switches' real-time port traffic and connection status. For switches with PoE ports, you can even see real-time power consumption statistics. Administrators can filter and customize the dashboard to display only the necessary information for a more focused experience. Be ahead of any problems with instant push notifications and alerts that can be customized to ensure that administrators can swiftly identify problems and perform immediate troubleshooting.
Enterprise Security
To ensure the safety and reliability of all sensitive traffic, all management data to and from the cloud is separated from regular data using an SSL encrypted out-of-band connection. In addition, Nuclias offers a range of industry standard authentication and authorization methods to control user access. Administrator can configure external RADIUS servers and set up IP and MACbased access control lists to authenticate and authorize clients and create a safe and trusted network environment.
1 Active D-Link Nuclias account and valid device license required.
Features:
Product Highlights
24 x 10/100/1000BASE-T PoE ports
4 x 10/100/1000BASE-T ports
370W PoE power budget
Supports IEEE 802.3at PoE
Zero-Touch Deployment
Cloud Management w/99.9% SLA
WPA/WPA2/WPA3 Encryption
Innovative D-Link Green Energy-saving features 
Intuitive Web Portal for comprehensive switch management
Multilingual Support
D-Link Nuclias Cloud Management
Centralised cloud-based management
Zero-touch deployment
Intuitive web and app-based interface
Real-time at-a-glance network information
Management of multiple sites and devices through single pane of glass
Over-the-air firmware updates through the cloud
Instant alerts and notifications
Best-in-class Built for Enterprise Switches
Energy-Efficient Ethernet (EEE)
PoE+ support with up to 30 W per port
Supports 802.1D Spanning Tree (STP) and 802.1w Rapid Spanning Tree (RSTP)
802.3ad Link Aggregation
Loopback protection and IGMP snooping
Access Control Lists (ACLs)
Nuclias by D-Link:
Cloud Networking, Refreshed
The DBS-2000 series of switches is part of the Nuclias Cloud solution – D-Link's complete Cloud-Managed Networking solution for Small-to-Medium Businesses (SMBs), designed to make the ownership and administration of your IT infrastructure as simple and hassle-free as possible.
Nuclias by D-Link is a complete cloud-managed networking solution for small to medium-sized organisations with one or more sites.
Cloud networking, easy and simple, as it should be
Our Nuclias Cloud solution allows any organization with any level of IT resources to quickly and easily deploy, configure, manage, monitor, troubleshoot, and scale their networks remotely – via web browser or app.
Zero-touch Deployment
Hassle-free Management
Unlimited Scalability
Configure and manage your network over the Cloud
Zero-touch deployment of Access Points, Switches and other Nuclias Cloud-enabled devices can be done by non-technical personnel, with configuration and ongoing management carried out remotely via computer or tablet, anywhere.
SMBs/SMEs - Deploy an efficient network built for the future. Easily manage multiple sites, and generate detailed reports.
Retail Chains - Add your business logo to the fully customizable captive portal to build brand awareness.
Hospitality - Guest access via Social Login, up-to-date reporting, or organized by date, time, and client.
Education - Deploy devices quickly and efficiently, and manage them remotely from the Cloud.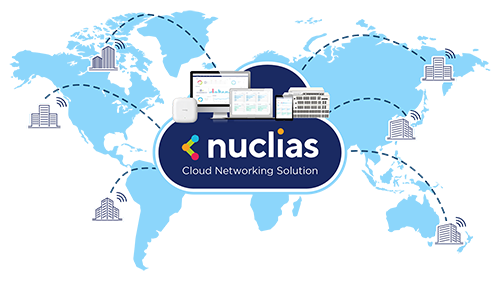 Cloud network management with ease
Nuclias Cloud is designed for businesses who lack in-house IT skills. Network self-healing, airtime fairness, and load balancing minimize complaints and outages. Network expansion is a snap, updates are easy, and management can be entirely outsourced to a Managed Service Provider (MSP) – it's that simple.
No additional training needed
Unlimited scalability of supported Cloud-enabled devices
Efficient centralized Cloud-based management
Devices still work even when not connected to the Cloud
99.9% Service Level Agreement reliability
Zero-Touch Deployment with Cloud-Based Management
With Nuclias Cloud, there's no need to send out an engineer for installation. With Zero-Touch Deployment, all you need to do with a new onsite device is connect it. All configuration can be remotely managed via the Cloud. Firmware upgrade is done over the air. Set up the update schedule on the web portal, and firmware upgrade is carried out for assigned sites and devices, as scheduled.
Nuclias Cloud is built on a tried and trusted platform
With Nuclias Cloud, 99.9% availability is guaranteed, with 24x7 automated failure detection, and cross-timezone support for rapid escalation across multiple teams, and multilingual access. Performance is optimized by servers that automatically scale to meet performance demands.
Main Features
Zero-touch provisioning
Role-based administration
Auditable change logs
Authentication via customisable captive portal, 802.1x and RADIUS server
Social login for Wi-Fi access supported
Advanced traffic report and data analysis
Intuitive web-based interface with multilingual support
Automatic monitoring and alerts
Over-the-web firmware upgrades
Searchable network-wide event log
Intuitive VLAN Configuration
Cloud based RF Optimisation
Specifications:
D-Link DBS-2000 Series Specifications
DBS-2000-10MP
DBS-2000-28
DBS-2000-28MP
DBS-2000-28P
DBS-2000-52
DBS-2000-52MP
General
Interfaces

8 x 10/100/1000 Mbps PoE
2 x SFP 100/1000 Mbps

24 x 10/100/1000 Mbps PoE
4 x Combo 1000 Mbps/SFP

24 x 10/100/1000 Mbps PoE
4 x Combo 1000 Mbps/SFP

24 x 10/100/1000 Mbps PoE
4 x Combo 1000 Mbps/SFP

48 x 10/100/1000 Mbps PoE
4 x Combo 1000 Mbps/SFP

48 x 10/100/1000 Mbps PoE
4 x Combo 1000 Mbps/SFP

Port Functions

IEEE 802.3 compliant
IEEE 802.3u/802.3z compliant
IEEE 802.3ab compliant
IEEE 802.3af/802.3at compliant
IEEE 802.3x Flow Control
Supports manual/auto MDI/MDIX configuration
Supports half/full-duplex operation
IEEE 802.3az compliant

Performance
Switching Capacity
20 Gbps
56 Gbps
56 Gbps
56 Gbps
104 Gbps
104 Gbps
Max. Forwarding Rate
14.88 Mpps
41.7 Mpps
41.7 Mpps
41.7 Mpps
77.4 Mpps
77.4 Mpps
MAC Address Table Size
8K Entries
8K Entries
8K Entries
8K Entries
16K Entries
16K Entries
Packet Buffer
4.1 Mbits
4.1 Mbits
4.1 Mbits
4.1 Mbits
12 Mbits
12 Mbits
Flash Memory
32 MB
32 MB
32 MB
32 MB
32 MB
32 MB
PoE
PoE Standard
IEEE 802.3at
IEEE 802.3af
N/A
IEEE 802.3at
IEEE 802.3af
IEEE 802.3at
IEEE 802.3af
N/A
IEEE 802.3at
IEEE 802.3af
PoE Capable Ports
Ports 1 to 8
N/A
Ports 1 to 24
Ports 1 to 24
N/A
Ports 1 to 48
PoE Power Budget
130 W
30 W max. per port
N/A
370 W
30 W max. per port
193 W
30 W max. per port
N/A
370 W
30 W max. per port
Power Consumption
Standby Mode
4.3 W / 100 V
5.2 W / 240 V
6.49 W / 100 V
6.55 W / 240 V
18.5 W / 100 V
17.1 W / 240 V
19.6 W / 100 V
16.6 W / 240 V
13.7 W / 100 V
13.9 W / 240 V
32 W / 100 V
31.6 W / 240 V
Maximum Power Consumption
152.3 W (PoE on)
9.4 W (PoE off)
17.32 W
446.1 W (PoE on)
29.8 W (PoE off)
263.9 W (PoE on)
30.6 W (PoE off)
34.85 W
478.9 W (PoE on)
54.4 W (PoE off)
Physical & Environmental
Power Input
100 to 240 V AC, 50/60 Hz internal power supply
100 to 240 V AC, 50/60 Hz internal power supply
100 to 240 V AC, 50/60 Hz internal power supply
100 to 240 V AC, 50/60 Hz internal power supply
100 to 240 V AC, 50/60 Hz internal power supply
100 to 240 V AC, 50/60 Hz internal power supply
MTBF
1,274,005 hours
992,594 hours
277,967 hours
469,262 hours
400,667 hours
236,406 hours
Acoustics
0 dB(A)
0 dB(A)
51.7 dB(A)
51.7 dB(A)
0 dB(A)
52.4 dB(A
Heat Dissipation
519.51 BTU/hr
59.09 BTU/hr
1521.99 BTU/hr
900.36 BTU/hr
118.92 BTU/hr
1634.01 BTU/hr
Weight
1.77 kg (3.90 lbs)
2.15 kg (4.74 lbs)
3.94 kg (8.68 lbs)
3.75 kg (8.27 lbs)
3.46 kg (7.63 lbs)
6.26 kg (13.80 lbs)
Dimensions
330 x 180 x 44 mm
(12.09 x 7.09 x 1.73 in)
440 x 140 x 44 mm
(12.09 x 5.51 x 1.73 in)
440 x 250 x 44 mm
(12.09 x 9.84 x 1.73 in)
440 x 250 x 44 mm
(12.09 x 9.84 x 1.73 in)
440 x 210 x 44 mm
(12.09 x 8.27 x 1.73 in)
440 x 430 x 44 mm
(12.09 x 16.93 x 1.73 in)
Ventilation
Fanless
Fanless
2 x Fans
2 x Fans
Fanless
3 x Fans
Operating Temperature
-5 to 50 °C (23 to 122 °F)
Storage Temperature
-20 to 70 °C (-4 to 158 °F)
Operating Humidity
0% to 95% non-condensing
Storage Humidity
0% to 95% non-condensing
Certifications
Safety
UL, CB, LVD, BSMI, CCC
EMI/EMC
CE, FCC, VCCI, BSM
Software Features
VLAN
802.1Q Tagged VLAN
Management VLAN
Voice VLAN
VLAN Group

Supports 256 static VLAN groups
Security
SSL
DHCP Server Screening
Port Security
Access Control List (ACL)
L2 Features
Flow Control

802.3x Flow Control
HOL Blocking Prevention

Jumbo Frames
IGMP Snooping

IGMP v1/v2/v3 awareness Snooping
Supports 256 Groups

Cable Diagnostics
LLDP
Spanning Tree Protocol
802.3ad Link Aggregation
Management
Cloud-based through Nuclias
Nuclias mobile app
Green Technology
Compliant with RoHS 6
Time-based PoE
Pricing Notes:
Pricing and product availability subject to change without notice.
D-Link Products
D-Link Nuclias Cloud-Managed Switches
D-Link 28-Port Nuclias Cloud-Managed PoE Switch - PoE Budget 370W
#DBS-2000-28MP
List Price:
$814.99
Our Price: $774.24
D-Link Nuclias Cloud Switch Licenses
Nuclias Cloud Switch License (1-Year)
#DBS-WW-Y1-LIC
List Price:
$37.99
Our Price: $36.09
Nuclias Cloud Switch License (3-Year)
#DBS-WW-Y3-LIC
List Price:
$84.99
Our Price: $80.74
Nuclias Cloud Switch License (5-Year)
#DBS-WW-Y5-LIC
List Price:
$124.99
Our Price: $118.74