DGS-1100 V2 Series Smart Managed 5-Port Gigabit Switch

A powerful switch with a feature set making it as flexible as you need it to be, great for a variety of deployments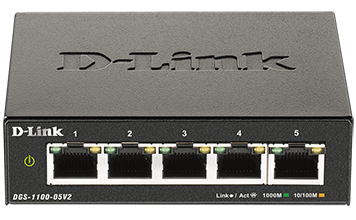 D-Link Products
D-Link Smart Gigabit Switches
DGS-1100 V2 Series 5-Port Gigabit Smart Managed Switch
#DGS-1100-05V2
List Price:
$44.99
Our Price: $42.74
Click here to jump to more pricing!
Overview:
The DGS-1100 Series is a range of switches designed to meet the requirements of small, medium, and enterprise businesses. Support for multiple PoE standards make the DGS-1100 Series ideal for IP surveillance deployments. Advanced management features, a range of diagnostic and troubleshooting tools, and energy efficient technologies provide a flexible solution to meet your networking requirements.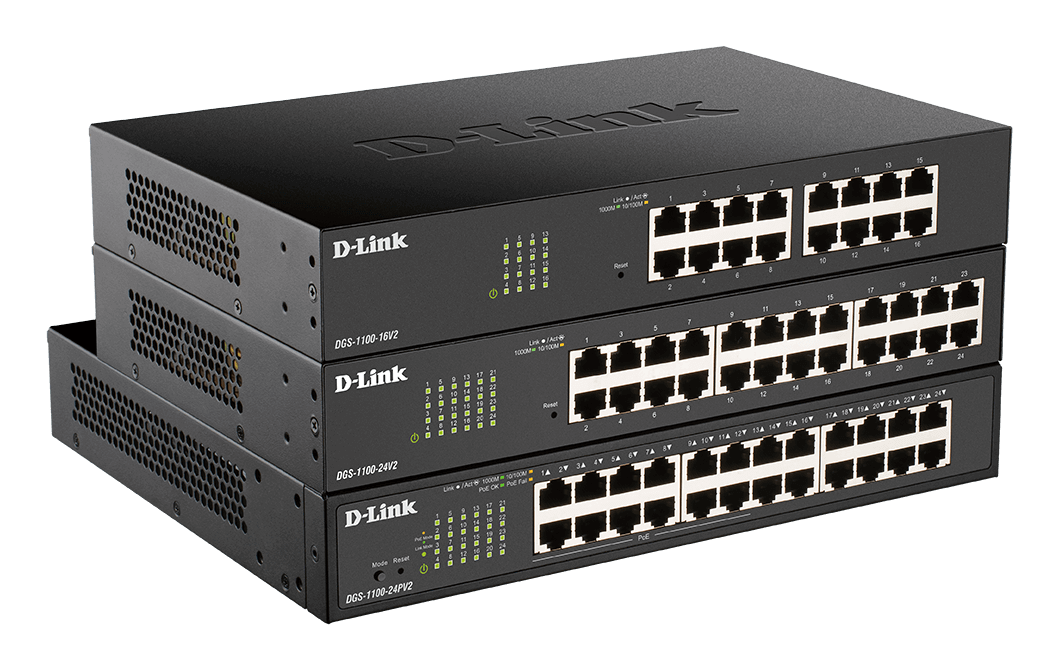 Powerful Switching for your Business
The DGS-1100 Series is a range of powerful switches that offer a lot of bang for your buck. They are great for busy SMBs who expect a lot of their network, including support for surveillance and VoIP. They are packed with traffic management & optimization features that keep your network congestion free. Meanwhile, management tools are flexible and intuitive, making your life easier.
---
Easy to Use & Easy to Install
D-Link Network Assistant Utility (DNA) can quickly discover and do initial setup for D-Link Networking devices such as the DGS-1100 Series, which greatly improves efficiency for solution deployment.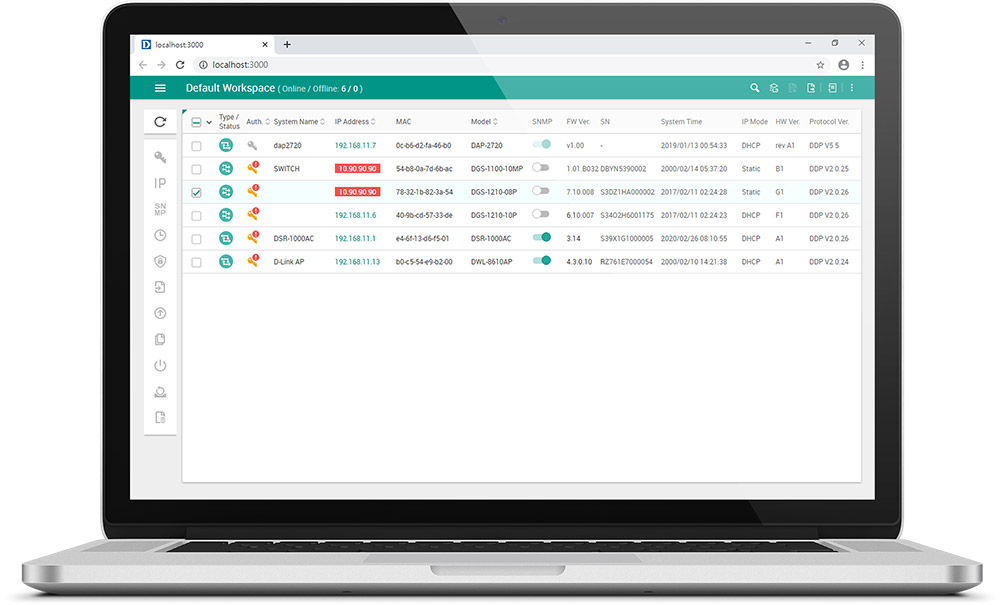 ---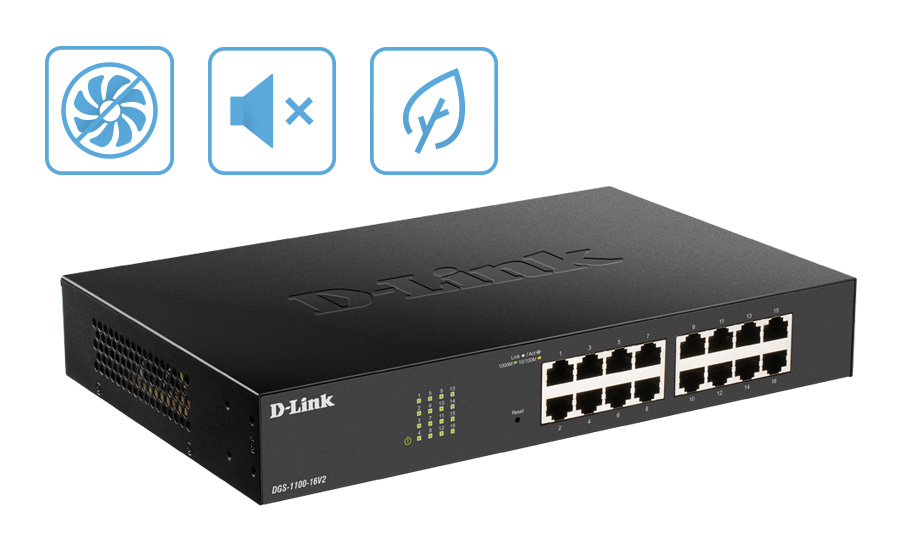 Green Technology
D-Link Green technology enables the DGS-1100 Smart Managed Switches to save power without sacrificing performance. Most of the models in the series utilize a fanless design, for silent and energy-efficient operation. All are IEEE 802.3az-compliant and feature Link Status detection and Time-Based PoE.
---
PD Alive Actively Mitigates Downtime
Round-the-clock surveillance footage is vital. If you have cameras attached to your network, you may have thought technical difficulties were a given. However, the PD-Alive feature actively mitigates device downtime. If a device is not working as expected, the switch can automatically reset them and get them back online. No need to turn them on and off again in the middle of the night.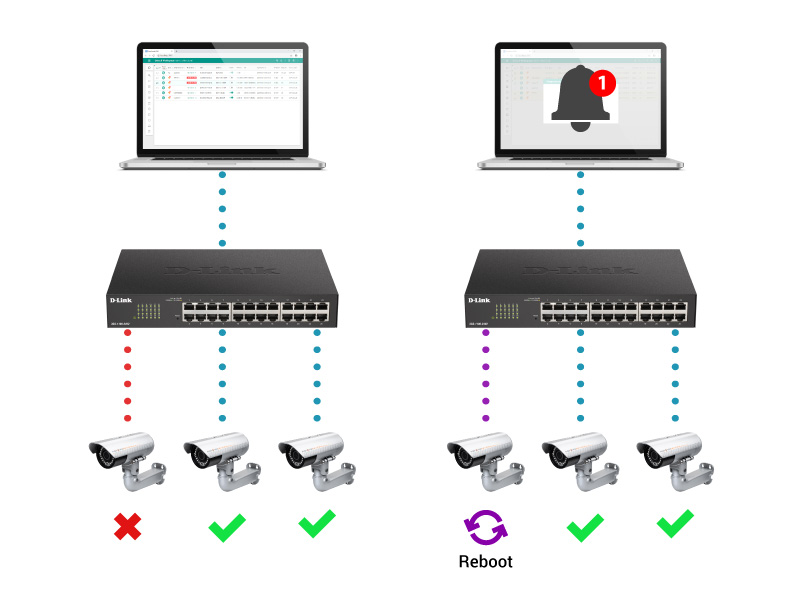 Features:
5 x 10/100/1000 Mbps ports

Fanless design for silent operation

Bandwidth Control ensures latency-sensitive traffic always gets the bandwidth it needs

Quality of Service further prioritizes latency-sensitive traffic, ensuring timely delivery

Segregate different types of traffic, such as surveillance or voice, with VLANs to heighten security 

IGMP Snooping sends multicast traffic only where it needs to go, significantly cutting down network traffic

Innovative energy saving features are good for your budget, as well as the environment

Get up and going quickly with streamlined first-time setup and ongoing management
Technical Specifications:
DGS-1100 V2 Series
Technical Specifications

General

DGS-1100-05V2
DGS-1100-05PDV2
DGS-1100-08V2
DGS-1100-08PV2

Hardware Version

A1

Size

Desktop

Number of Ports

• 5 x 10/100/1000 Mbps
• 2 x 10/100/1000 Mbps (PoE)
• 3 x 10/100/1000 Mbps
• 8 x 10/100/1000 Mbps
• 8 x 10/100/1000 Mbps (PoE)

Port Functions

• IEEE 802.3 for Ethernet
• IEEE 802.3u for Fast Ethernet
• IEEE 802.3ab for Gigabit Ethernet
• IEEE 802.3af (for DGS-1100-05PD)
• IEEE 802.3at (for DGS-1100-08P)
• Auto-negotiation
• Supports half/full-duplex operation (half at 10/100 Mbps, full at 1000 Mbps)
• Auto MDI/MDIX
• IEEE 802.3x Flow Control supports full-duplex mode
• IEEE 802.3az compliant

Performance

Switching Capacity

10 Gbps
10 Gbps
16 Gbps
16 Gbps

Maximum Forwarding Rate

7.44 Mpps
7.44 Mpps
11.9 Mpps
11.9 Mpps

MAC Address Table Size

2K entries
2K entries
4K entries
4K entries

Packet Buffer

1 Mbits
1 Mbits
1.5 Mbits
1.5 Mbits

Flash Memory

2 Mbytes

PoE

PoE Standard

-
IEEE 802.3af
-
IEEE 802.3af/802.3at

PoE Capable Ports

-
Ports 1 to 2
-
Ports 1 to 8

PoE Power Budget

-
• PoE Passthrough:
• 18 W with 802.3at input
• 8 W with 802.3af input
-
• 64 W
• 30W per PoE port max

Power Consumption

Standby Mode

1.39 W
1.728 W
1.93 W
2.0 W

Maximum Power Consumption

3.42 W
24.08 W (PoE on)
3.24 W (PoE off)
4.94 W
77.9 W (PoE on)
4.6 W (PoE off)

Physical

Power Input

100 to 240 V AC, 50 to 60 Hz external power adapter
• 802.3af/at PoE power only via PD port 5
• No power supply
100 to 240 V AC, 50 to 60 Hz external power adapter
100 to 240 V AC, 50 to 60 Hz external power adapter

MTBF

1,562,055 hours
2,357,475 hours
1,456,992 hours
786,841 hours

Acoustics

0 dB(A)

Heat Dissipation

11.67 BTU/hr
N/A
16.85 BTU/hr
265.85 BTU/hr

Weight

0.23 kg (0.51 lbs)
0.38 kg (0.84 lbs)
0.34 kg (0.75 lbs)
0.43 kg (0.95 lbs)

Dimensions

100.5 x 82 x 28 mm (3.6 x 3.3 x 1.1 in)
150 x 97 x 28 mm (5.9 x 3.8 x 1.1 in)
145 x 82 x 28 mm (5.7 x 3.3 x 1.1 in)
171 x 97.8 x 28.6 mm (6.7 x 3.9 x 1.1 in)

Ventilation

Fanless

Operating Temperature

0 to 40 °C (32 to 104 °F)

Storage Temperature

-40 to 70 °C (-40 to 158 °F)

Operating Humidity

0% to 90% non-condensing

Storage Humidity

0% to 95% non-condensing

EMI

FCC Class B, CE Class B, VCCI Class B, BSMI

Safety

cUL, CE LVD, CB, BSMI
Pricing Notes:
Pricing and product availability subject to change without notice.
D-Link Products
D-Link Smart Gigabit Switches
DGS-1100 V2 Series 5-Port Gigabit Smart Managed Switch
#DGS-1100-05V2
List Price:
$44.99
Our Price: $42.74