D-Link Managed Layer 2 Gigabit Switches

D-Link Managed Switches offer businesses a perfect low-cost, feature-rich, entry-level option.
The switches can be deployed to set up Gigabit connections to desktops to create a company-wide network backbone. Managed switches feature built-in support for remote setup and management.
The advanced Access Control List and user authentication function effectively extends the network security coverage from core to edge. The unique D-Link Safeguard Engine protects the switches from the threat of worms and viruses, increasing overall reliability and serviceability.
Allows administrators to monitor traffic across the network, introduce redundancy and control access
Highly scalable switch solution for future business growth
Ideal for networks with numerous users and applications, where security, reliability and security is needed
Support for 10 Gigabit Ethernet and other high bandwidth technologies
Power over Ethernet compliant, eliminating the need for external power supplies allowing you to utilize current cables and reducing cable clutter for a more tidier system
Sorry, these products are no longer available. Please contact us for more information.
D-Link Managed Layer 2 Gigabit Switches: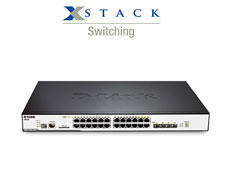 SI Standard Image
24-Port Gigabit Speed
4-Port SFP
PoE Ports available
MAC Address Table Size 16K
Switching Capacity 88 Gbps
Max Packet Forwarding Rate 65.48 Mpps
Layer 2 Features
Energy Saving Technology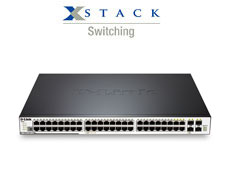 SI Standard Image
48-Port Gigabit Speed
4-Port SFP
PoE Ports available
MAC Address Table Size 16K
Switching Capacity 136 Gbps
Max Packet Forwarding Rate 101.19 Mpps
Layer 2 Features
Energy Saving Technology