D-Link DCS-6513

3 MP Full HD WDR Outdoor Dome IP Camera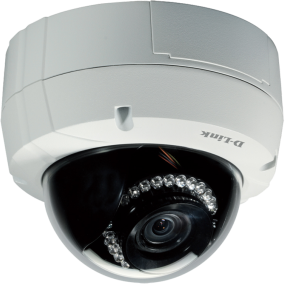 Sorry, this product is no longer available, Please contact us for a replacement.
D-Link Products
Mounting Bracket
Pendant Mount for DCS-6314, DCS-6511, DCS-6513
#DCS-34-2
List Price:
$129.99
Our Price: $110.99
Click here to jump to more pricing!
Overview: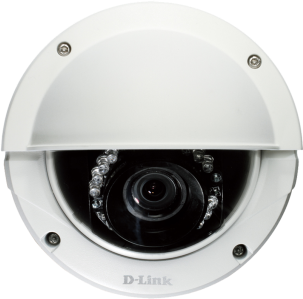 The D-Link DCS-6513 Full HD WDR Day & Night Outdoor Dome Network Camera is a high definition professional surveillance and security solution suitable for small, medium, and large enterprises. The camera uses a high-sensitivity 3 megapixel progressive scan CMOS sensor with a motorized P-Iris varifocal lens and onboard WDR image enhancement to deliver quality video in all conditions. The all-in-one rugged design makes this camera extremely reliable and ideal for deployment in virtually any environment.
High Quality Video
The DCS-6513 is equipped with a P-Iris lens that controls the iris with extreme precision. Its built-in stepping motor maintains the iris opening at an optimal level at all times, resulting in superior video quality, clarity, and depth of field, so you can see every minute detail of the area being monitored. The remote focus function eliminates the need for manual focusing at the camera location and allows you to make adjustments from any computer. To maximize bandwidth efficiency and improve image quality, the DCS-6513 provides real-time video compression using the H.264, MPEG‑4 and MJPEG codecs, and supports three separate profiles for simultaneous video streaming and recording. This versatility enables a wide variety of security applications, such as monitoring public areas to detect incidents and to coordinate responses, enforcing access control to restricted areas, deterring criminal activity, or monitoring inventory. Furthermore, bandwidth requirements can be adjusted in real-time over the network, and recorded video files can be saved to a network attached storage (NAS) device or microSD card.
Continuous Monitoring
The DCS-6513's WDR image enhancement gives you improved image quality in environments with uneven or difficult lighting, so you can identify subjects that are backlit or in brightly lit areas. In low-light situations, the IR cut filter automatically slides out of the way to use all available light. The DCS-6513 also has built-in IR LED illuminators with a 60 feet range, allowing the camera to keep watch even in complete darkness. These features work together to give you a reliable surveillance camera capable of monitoring an area 24 hours a day.
Robust Management Software
The DCS-6513 includes D-ViewCam, a complete surveillance software package that enables you to view, manage, and record from up to 32 cameras on a single computer in a central location. Recordings and e-mail alerts can be triggered through motion detection or events triggered by digital input devices, keeping administrators informed of any unusual activity.
Flexible Connectivity Options
The DCS-6513 has a built-in 802.3af compliant PoE module that simplifies installation by providing power and networking connectivity with a single cable, reducing the need to drill holes or lay additional cabling. In addition, the included digital input and output connector enables connections to external devices such as IR sensors, switches and alarm relays.
Product Features:
Motorized Lens with P-Iris
Remote zoom and focus adjustment eliminates the need for on-site lens adjustment, P-Iris motorized iris control allows precise depth of field adjustment
3 Megapixel Full HD Resolution
The 3 megapixel progressive CMOS sensor captures all the details with smooth high definition video and still images
Versatile Installation
Rugged weatherproof housing and a range of mounting options allow installation in a wide variety of indoor and outdoor locations
Features:
Exceptional Video Quality
1/2.8" 3 megapixel progressive CMOS sensor
3 to 9 mm motorized varifocal lens
Full HD resolution of 1920 x 1080 and up to 3 megapixel at 2048 x 1536
P-Iris technology for superior image quality
Wide Dynamic Range image enhancement
H.264, MPEG-4, MJPEG codec support for streaming and recording
Outdoor Placement
Built-in IR LED illuminator with a 60 feet range for use in dark areas
Built-in heating and cooling ensure the camera can work in a range of climates from -40° to 122°F
Range of mounting options for flexible placement
IP67 weatherproof and IK10 anti-vandal certified housing
Weather shield to protect unit when surface mounted outdoors
Flexibility
microSD/SDHC card slot for onboard storage
10/100 Fast Ethernet port with PoE ensures easy integration into your network
DI/DO socket for connection to external devices
Audio in and out jacks can be connected to a microphone and speaker for 2-way communication
Technical Specifications: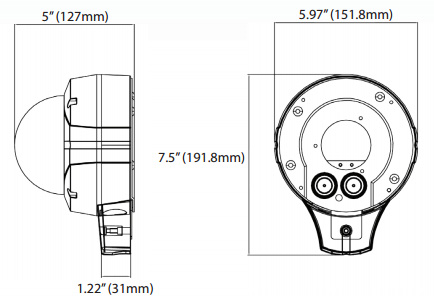 D-Link DCS-6513 Specifications
Camera
Camera Hardware Profile

1/2.8" 3 Megapixel progressive CMOS sensor
60 feet IR illumination distance
Minimum illumination: 0.5 lux (F1.2, color mode), 0 lux (B/W, IR-LED on)
Built-in Infrared-Cut Removable (ICR) Filter module
10x digital zoom
3 to 9 mm motorised varifocal lens
Aperture: F1.2
Angle of view (16:9)

(H) 96.4° to 31.6°
(V) 51.2° to 17.7°
(D) 114.1° to 36.3°

Camera Housing

IP67 compliant weatherproof housing
IK10 compliant vandal-proof housing
Included weather shield

Image Features

Configurable image size, quality, frame rate, and bit rate
Time stamp and text overlays
Configurable motion detection windows
Configurable privacy mask zones
Configurable exposure time, brightness, saturation, contrast, contrast, sharpness.

Video Compression

Simultaneous H.264/MPEG-4/MJPEG format compression
H.264/MPEG-4 multicast streaming
JPEG for still images

Video Resolution

16:9 - 1920 x 1080, 1280 x 720, 800 x 450, 640 x 360, 480 x 270, 320 x 176, 176 x 144 up to 30 fps
4:3 - 1440 x 1080, 1280 x 960, 1024 x 768, 800 x 600, 640 x 480, 320 x 240, 176 x 144 up to 30 fps

Audio Support
External Device Interface

10/100 BASE-TX Ethernet port with PoE
1 DI / 1 DO
DC12 V, 100 mA Output
micro SD/SDHC Card Slot
Audio Input / Output
DI/DO connector 12 V DC output

Network
Network Protocols

IPv6
IPv4
TCP/IP
UDP
ICMP
DHCP client
NTP client (D-Link)
DNS client
DDNS client (D-Link)
SMTP client
FTP client
HTTP / HTTPS
Samba client
PPPoE
UPnP port forwarding
RTP / RTSP/ RTCP
IP filtering
QoS
CoS
Multicast
IGMP
ONVIF compliant

Security

Administrator and user group protection
Password authentication
HTTP and RTSP digest encryption

System Management
System Requirements for Web Interface
Browser: Microsoft Internet Explorer 6 or higher, Firefox 1.5 or higher, or other Java-enabled browser
Event Management

Motion detection
Event notification and uploading of snapshots/video clips via e-mail or FTP
Supports multiple SMTP and FTP servers
Multiple event notifications
Multiple recording methods for easy backup

Remote Management

Take snapshots/video clips and save to local hard drive or NAS via web browser
Configuration interface accessible via web browser

Operating Systems
Windows 8/7/Vista/XP/2000
D-ViewCam™ System Requirements

Operating System: Microsoft Windows 7/Vista/XP
Web Browser: Internet Explorer 7 or higher
Protocol: Standard TCP/IP

D-ViewCam™ Software Functionst

Remote management
Control and manage up to 32 cameras
View up to 32 cameras on one screen
Management functions provided in web interface
Scheduled recording, motion detection, and manual recording triggers

General Specifications
External Power Adapter

Input: 100 to 240 V AC, 50/60 Hz
Output: 12V DC 1.25 A

Power Consumption
10.5 watts ± 5%
Operating Temperatur
-40° to 122° F (-40° to 50° C)
Storage Temperature
-4° to 158°F (-20 to 70 °C)
Operating Humidity
20% to 80% non-condensing
Storage Humidity
5% to 95% non-condensing
Weight
3.37 lbs (1.53 kg), with weather shield
Certifications
CE, CE LVD, FCC, C-Tick
Warranty
Warranty
5-Year Warranty1
1
5-Year Warranty available only in the USA
D-ViewCam Network Camera Surveillance Software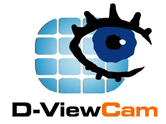 Remotely Protect Your Home and Office with D-Link Surveillance Solutions
D-ViewCam network camera surveillance software, included in all D-Link network cameras, is a comprehensive surveillance system designed to centrally manage multiple network cameras for home, Small Office and Home Office (SOHO), or Small and Medium Business (SMB) users.
Supporting up to 32 network cameras, D-ViewCam is compatible with all current D-Link network cameras, offering digital monitoring and recording capabilities of video, audio, and events for various security applications. This software provides users with a wide array of features for added convenience, including video recording and playback, Video mode, Map mode, Wizard mode, Expert mode, Event Action, and more, offering users powerful surveillance software that's easy to use.
Existing D-Link network camera owners can download the newest D-ViewCam version from the D-Link support site by examining the available downloads for their particular camera part number.
Feature summary:
View and manage up to 32 cameras on a single screen easily and hassle free
Record and playback detailed video monitoring
Control and configure the cameras from any location that has Internet or private network connectivity
More efficient and cost-effective security management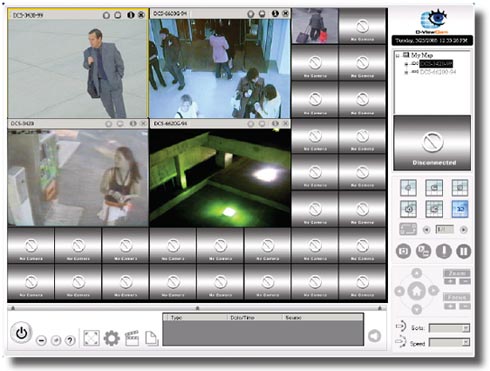 Remotely view and manage up to 32 cameras with D-ViewCam 2.0 software.
Pricing Notes:
Pricing and product availability subject to change without notice.
D-Link Products
Mounting Bracket
Pendant Mount for DCS-6314, DCS-6511, DCS-6513
#DCS-34-2
List Price:
$129.99
Our Price: $110.99