D-Link DAP-3666

Nuclias Connect AC1200 Wave 2 Outdoor Access Point
D-Link Products
D-Link Wireless Access Points
D-Link Wireless Nuclias Connect AC1200 Wave 2 Outdoor Access Point
#DAP-3666
List Price:
$499.99
Our Price: $474.99
Click here to jump to more pricing!
Overview:
The DAP-3666 Wireless AC1200 Wave 2 Dual-Band Outdoor PoE Access Point is a versatile, high power outdoor access point designed with harsh weather resistant features making it an ideal solution for creating outdoor wireless hotspot networks. Utilising the cutting-edge speed of 802.11ac Wave 2, it deliveres maximum combined wireless signal rates of up to 1200Mbps and supports MU-MIMO technology that allows multiple devices to get high-bandwidth Wi-Fi signal at the same time, distributing data more efficiently. It is Passpoint® certified by Wi-Fi Alliance and complies with Hotspot 2.0, making the process of devices finding and getting access to the known network seamless.
For centralise network management, administrators can use D-Link's free Nuclias Connect software or Nuclias Connect Hub (DNH-100) to configure and manage multiple access points. In addition to streamlining the management process, Nuclias Connect provides network administrators with the means to verify and conduct regular maintenance checks remotely, eliminating the need to send personnel out to physically verify proper operation.
Preloaded with the Nuclias Connect Management Software
D-Link's Nuclias Connect is a centralized management and analytics solution that brings convenience, control, customizability and cost-effective scaling to small to medium-sized business (SMB) networks. It enables network monitoring, management, and device configuration through a single, easy-to-use software interface.

What's more – management software comes preloaded, and there are no licensing or support fees. Easily manage your network, anytime, anywhere.
Come Rain or Shine, it's No Sweat
Teaming up with GORE-TEX, the people keeping hikers warm and dry as they summit the likes of Everest, we've produced equipment that can take the elements head on. The GORE-TEX Technology repels water and harmful dust while at the same time letting heat and humidity dissipate, allowing the DAP-3666 to boast a certified IP68 rating. Extreme summers or freezing winters pose little threat to the DAP-3666's subtle, clean-line design. Whatever the weather, the DAP-3666 can deal with it.
Multi-Mode Makes the Most of your Network Capabilities
In order to achieve optimal network performance, the DAP-3666 has several operational modes tailored to best fit the individual needs of your network. Access Point, Wireless Client, WDS (Wireless Distribution System), and WDS with Access Point modes allow for flexible, customizable deployment whatever your requirements.
Access Point
Add wireless access to your existing wired network.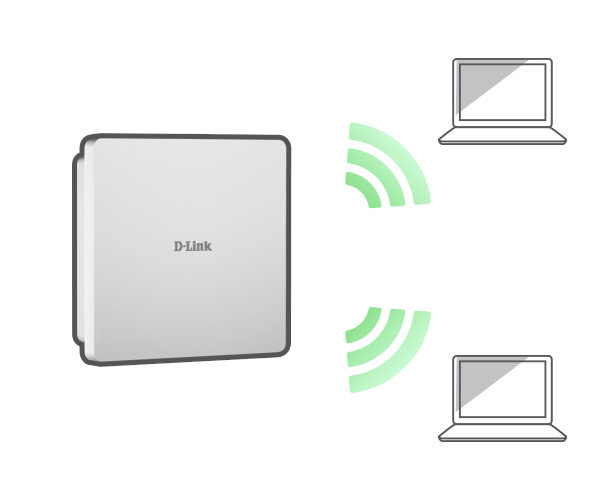 Wireless Client
Add wireless functionality to a device which does not have a Wi-Fi adapter.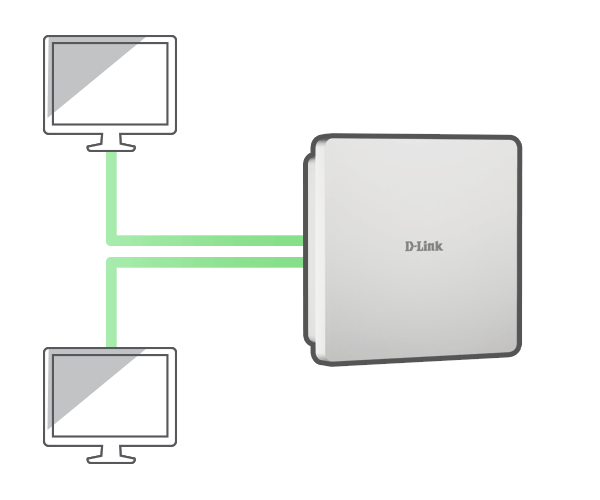 WDS
Wirelessly connect two separate networks.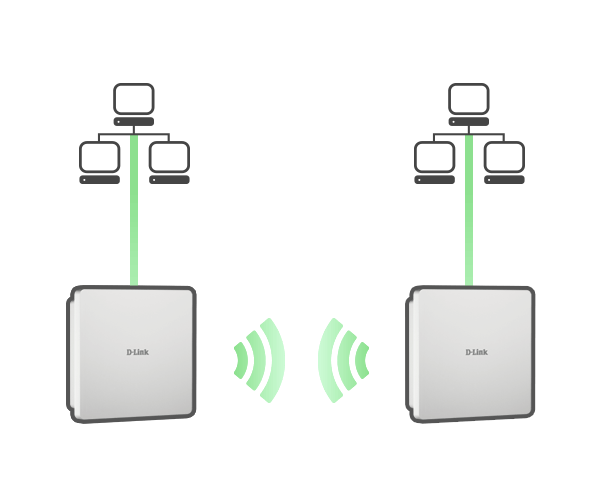 WDS with AP
Wirelessly connect two separate networks while also providing wireless access to both networks.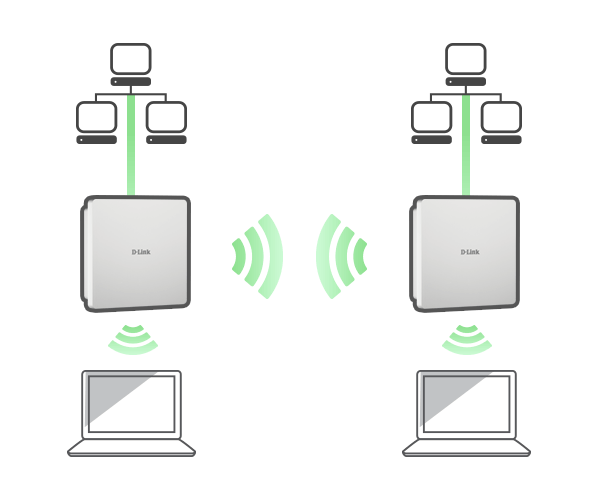 In a World Where Time is Money, Speed is Essential
Increase employee productivity with access to the data they require at combined speeds of up to 1200 Mbps. The DAP-3666 delivers four times the speed of Wireless N by supporting concurrent dual-band performance, while an added Gigabit LAN port allows for high-capacity backhaul to the wired network.
Take a Load Off and Let Your AP do the Hard Work
The DAP-3666's Load Balancing feature spreads the work load between two or more Access Points to get optimal resource utilization, throughput and response time, while Airtime Fairness helps distribute equal amounts of air time to each connected client. Band Steering auto-connects devices such as smart phones and tablets to the higher-capacity 5 GHz band while allowing devices 2.4 GHz-ready to remain. The result is a steady, consistent connection for each user – the perfect balancing act.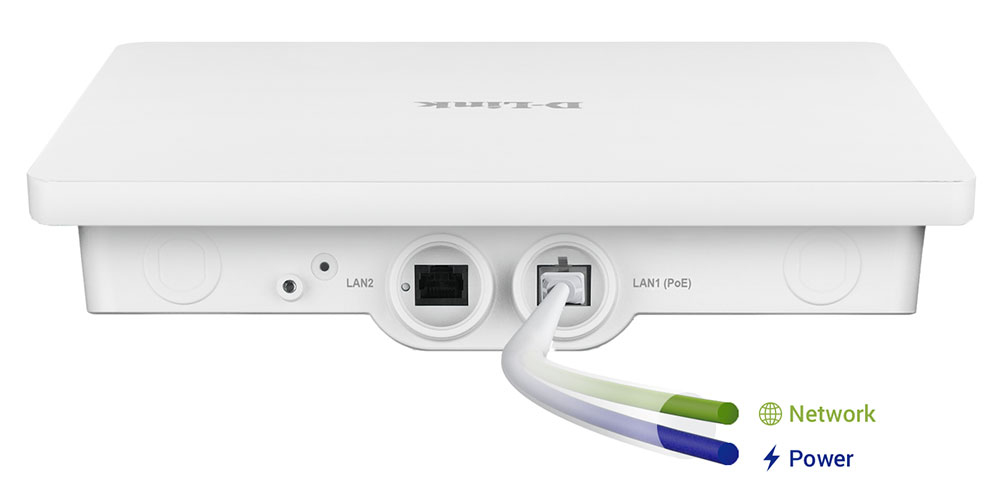 Peak Performance and Discreet Deployment with Power over Ethernet (PoE)
The DAP-3666's PoE function allows for easy installation and a simple, clean setup. No need to run extra power lines, no added hassle when configuring your hardwiring and no more cable clutter. Perfect for advanced installations in areas where power outlets are not readily available.
Make Every Second Count with Advanced Quality of Service (QoS)
The DAP-3666 not only delivers reliable wireless performance with maximum wireless signal rates of up to 300 Mbps in the 2.4 GHz band and 867 Mbps in the 5 GHz band but, Wi-Fi Multimedia (WMM™) support enhances your network's Quality of Service (QoS) by cleverly prioritizing different types of traffic. With the use of QoS, WMM ensures that applications such as, audio, video and voice, that require better throughput and more performance are placed in order of high-to-low priority for an all-round smoother, uninterrupted Wi-Fi experience.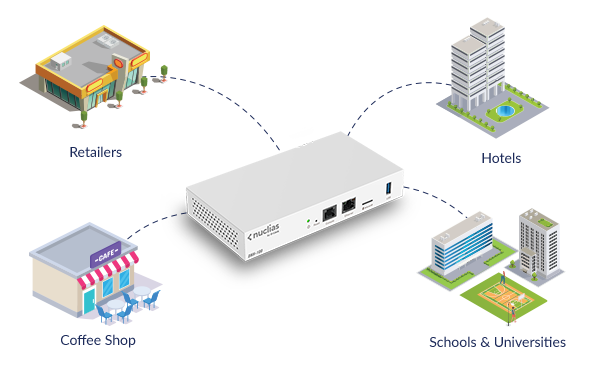 Big Things Start Small
Networks big or small all have to start somewhere, with devices sometimes having to take on duties that would not normally be expected of them. For the DAP-3666 that is not a problem since its stand-alone capabilities mean it can take on multiple roles effortlessly. It can be deployed within a small office or classrooms, for example, to create or expand the capacity of a wireless network.
The Beating Heart of Your Network
At the heart of your network is the DNH-100 Wireless Controller, or 'The Hub'. It centralizes all aspects of your Access Points' provisioning and management, allowing them to work together as a team. Features such as self-organizing, self-optimizing and self-healing keep the network performing at its peak.
Features:
High-Performance Connectivity
IEEE 802.11ac Wave 2 wireless, Up to 1200 Mbps
MU-MIMO with beamforming
Band steering
Gigabit LAN port
Made for Outdoor Environments
IP68 water and dust-proof housing
Weather resistant for temperatures between -30 and 60°C
Gore-Tex Technology repels liquid water while allowing for heat and humidity dissipation
Centralised Management
Compatible with Nuclias Connect for centralised network management
Trusted Security Features
128-bit personal wireless encryption
128-bit enterprise wirelss encryption
MAC address filtering
Internal RADIUS server
Convenient Installation
Supports 802.3at Power over Ethernet
Wall and ceiling mounting brackets included
Technical Specifications:
D-Link DAP-3666 Specifications
General
Device Interfaces

802.11a/b/g/n/ac wireless
2 Gigabit LAN Port (LAN1 supports PoE)

Standards

IEEE 802.11a/b/g/n/ac
IEEE 802.3u/ab/af
IEEE 802.1x
IEEE 802.11r
IEEE 802.11k
IEEEE 802.11v

Wireless Frequency Range2

2.4 GHz band: 2.4 GHz to 2.4835 GHz
5 GHz band: 5.15 to 5.35 GHz, 5.47 to 5.85 GHz

Antennas

Two internal 6 dBi for 2.4 GHz
Two internal 7 dBi for 5 GHz

Antennas Gain

3.7 dBi for 2.4 GHz
4.8 dBi for 5 GHz

Maximum Output Power

26 dbm for 2.4GHz
26 dbm for 5GHz

Data Signal Rate1

2.4 GHz: Up to 300 Mbps
5 GHz: Up to 867 Mbps

Functionality
Security

128-bit personal wireless encryption
128-bit enterprise wirelss encryption
WEP 64/128-bit encryption
SSID broadcast disable
MAC address access control
Network Access Protection (NAP)
Internal RADIUS server

Network Management

Telnet
Secure Telnet (SSH)
Web (HTTP)
Secure Socket Layer (SSL)
Traffic control
Nuclias Connect Software
Nuclias Connect Hub4

Other Features

Fast Roaming Support with 802.11k, 802.11v, and 802.11r
Passpoint Hotspot 2.0 Support

Physical & Environment
Dimensions
277 x 240 x 50 mm (10.91 x 9.45 x 1.97 inches)
Weight
981 grams (2.16 lbs) with antennas
Operating Voltage
48 V DC +/- 10%, or 802.3af PoE
Maximum Power Consumption
10.5 Watts
Temperature
Operating: -30 to 60 °C (-22 to 140 °F)
Storage: -30 to 65 °C (-22 to 149 °F)
Humidity
Operating: 10% to 90% non-condensing
Storage: 5% to 95% non-condensing
Meantime Between Failure (MTBF)
> 30,000 hours
Nuclias Connect Network Management Features
WLAN Management
Maximum APs per Installation4

1,000 (large scale installations)
100(small scale installaions)

WLAN Management Features

AP grouping
Multi-tenancy
Visualised topology
NAT pass-through
Setup wizard
AP discovery (layer 2 and layer 3)
Report system

User Authentication
Guest Portal
Captive portal
Authentication Method

Local
POP3
RADIUS
LDAP
Voucher

Hotspot Features

Built-in support for voucher-based authentication
Built-in hotspot manager for voucher creation and guest management
Rate limiting and bandwidth control for guest and hotspot portal

Wireless Features
RF Management and Control

Auto Output Power Control
Auto Channel
Self-healing around failed APs

Multiple SSIDs per Radio(AP)
8
Advanced Wireless Features

Band steering
L2 roaming
Bandwidth optimisation
Airtime fairness

System Management
Management Interface
Web-based user interface (HTTPS)
Scheduling

Firmware update
Configuration update

Supported Devices
Indoor Wireless N Access Points

DAP-2230 (Single-Band N300, F/W ver. 2.0)
DAP-2310 (Single-Band N300, F/W ver. 2.0)

Indoor Wireless AC Access Points

DAP-2360 (Single-Band N300, F/W ver. 2.0)
DAP-2610 (Dual-Band Wave 2 AC1300, F/W ver. 2.0)
DAP-2620 (Dual-Band Wave 2 AC1200, in-wall design)
DAP-2660 (Dual-Band AC1200, F/W ver. 2.0)
DAP-2662 (Dual-Band Wave 2 AC1200, WiFi4EU-ready)
DAP-2680 (Dual-Band AC1200, F/W ver. 2.0)
DAP-2695 (Dual-Band AC1750, F/W ver. 2.0)

Outdoor Access Points

DAP-3315 (Single-Band N300, F/W ver. 2.0)
DAP-3662 (Dual-Band AC1200, F/W ver. 2.0)
DAP-3666 (Dual-Band Wave 2 AC1200, WiFi4EU-ready)
1 Maximum wireless signal rate derived from IEEE standard 802.11 and 802.11ac specifications. Actual data throughput will vary. Network conditions and environmental factors, including volume of network traffic, building materials and construction, and network overhead, lower actual data throughput rate. Environmental factors may adversely affect wireless signal range.
2 Please note that operating frequency ranges vary depending on the r egulations of individual countries and jurisdictions.
3 For the EU region, this product is compliant with CE regulations and operates within the following frequency ranges: 2.4 - 2.4835 GHz, 5.150 - 5.250 GHz, 5.250 - 5.350 GHz, and 5.70 - 5.750 GHz.
4 Number of wireless access points supported depends on the specification of the computer on which DNC is installed. To support 1000 APs, a computer with at least an Intel Core i7 with 16 GB RAM and 4 TB hard drive, and 20 Mbps uplink bandwidth is recommended. To support 100 APs, a computer with at least an Intel Core i5 3.2GHz with 8 GB RAM and 2 TB hard drive, and 10 Mbps uplink bandwidth is recommended.
Antenna Pattern:
Antenna Pattern
2.4 GHz Wall Mounted
Orientation

H-Plane

E-Plane

5 GHz Wall Mounted
Orientation

H-Plane

E-Plane

Pricing Notes:
Pricing and product availability subject to change without notice.
D-Link Products
D-Link Wireless Access Points
D-Link Wireless Nuclias Connect AC1200 Wave 2 Outdoor Access Point
#DAP-3666
List Price:
$499.99
Our Price: $474.99